General characteristics of metal enclosures
Metal electrical enclosures, fulfilling a series of requirements given to switchgears, quickly gain interest among clients and become products commonly applied in the LV switchgears sector.
SAKS-POL company, meeting clients expectations and fulfilling the requirements of appropriate regulations, offers a wide array of
switchgears from metal. As one of the leading producers conducts initiatives enabling continuous improvement in production technology. Thanks to this, products are of the highest quality. Products offered have appropriate certificates issued by The Research Office regarding quality BBJ-SEP.
---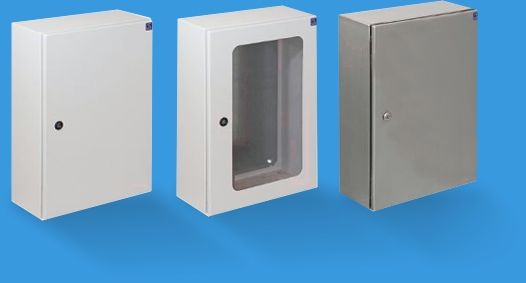 PRODUCTION TECHNOLOGY
In the process of producing metal enclosures exist two elements, which have a substantial impact on quality and repetition of made goods.
Material – from which are made elements are high quality black sheet, galvanized and acid-resistant. Technologically advanced high quality base product guarantees high mechanical endurance and limits the harmful impact of UV rays.
Production – from which depends quality, exactness, and repetition of particular elements of cabinets. Obtaining high quality enclosures is possible thanks to a modern machine tools numerically steered and qualified specialist in this field.
APPLICATION
Single houses
Neighbourhoods
Blocks of flats
Production plants
Service outlets (workshops, sales and service rooms)
Industry (distribution of energy on the terrain of a big plant)
---
Enclosures lacquered
Metal enclosures made of black or zinc coated are additionally secured by varnishing with any color from the RAL palette. It protects the enclosure surface against corrosion phenomenon. The surface covered with varnish enables also matching the color of the environment in which it will be placed enclosure. Applied powder coating provides long-term protection against undesirable phenomena weather.
Enclosures antygrafiti
The outer surface of the enclosures can be further protected with antigraffiti means. We currently have a number of solutions and resources that protect the surface from the devastation in the form of unwanted prints and other dirt surface. Transparency protective measure allows for use directly on the plastic and painted surfaces without affecting the color of the enclosures.
Available types of enclosures
---
CATALOG OF METAL ENCLOSURES
Check the full offer in our catalog