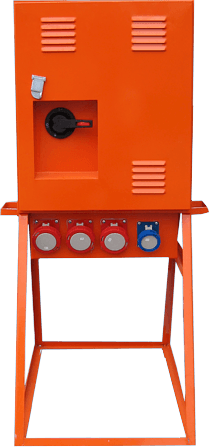 Construction
Enclosures of switchgear construction ORBM are commonly used for the assembly used to power supply electrical construction sites, public
events, concert halls, and a temporary supply of industrial facilities and utilities public.
The body casing is made of sheet steel times creped 1,2-1,5mm thick. Corrosion protection It provides coverage coated with powdered polyester in RAL 7032 or 2009. It is possible to cover housing any paint from RAL. Standard enclosure is equipped with a lock type Yale key number 9081.
Additional options
Enclosures of any size · Any RAL color · Lock LTK, RS, HS · Handles for transport
---
Application
Power supply electrical construction sites, public events, concert halls
Temporary supply of industrial facilities and utilities public
Exploitation
Enclosure positioned directly on the ground or building site
Weather conditions prevailing in industrial environments
---
The body casing made of sheet steel times creped
Very high aesthetics of door corner finishes
Possibility of making an metal enclosures of any size
Possibility of covering the enclosure with varnish in any RAL color

---
Compliance with standards
CATALOG ENCLOSURES OF SWITCHGEAR CONSTRUCTION
Check the full offer in our catalog