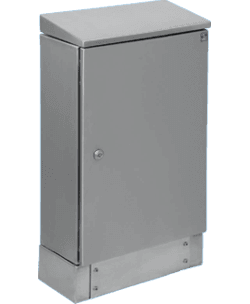 Construction
A housing body stable repeatedly hampered provided with doors embossed with internal hinges and locks in the type LTK the number depending on the height of the housing and the housing of height 1000 mm three-point lock.
The enclosure uses a special type of construction, which together with foamed gasket on the door provides a high degree of tightness IP 66. Each enclosure is equipped with a mounting plate made made of galvanized steel. Doors with gear left-right sided. Depending on the dimensions of the enclosure have strips for mounting cameras. It is possible to mount the housing wall directly or with the use of handles as well as additional free-standing on the respective pedestals. The standard enclosure is equipped with a mounting plate galvanized, the key with plastic gland plate in accordance with the table, plugs into the holes.
Additional options
With the key metal handles with a padlock  ·  Any RAL color  ·  Interior doors  ·  Roof and Pedestals  ·  Equipment modular design  ·  Brackets for mounting the housing on the wall
---
Housings vaiants
Enclosures OMB – made of black sheet secured corrosion in the process of powder coating polyester
Enclosures OMZn – made of galvanized steel lacquered powder
Enclosures OMN – made of sheet steel.
Application
Enclosures are dedicated to:
electrical switchboards, processes production and equipment control and – monitoring, air conditioning, ventilations
---
Any color from the RAL palette
Interior doors, roof and pedestals
Brackets for mounting the housing on the wall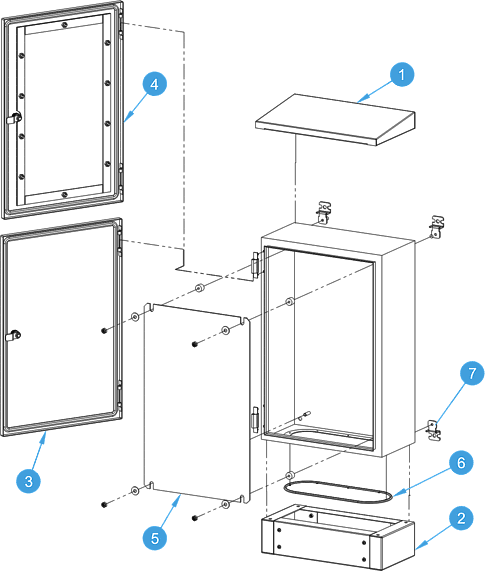 Enclosures construction
| | |
| --- | --- |
| 1 | Skew roof |
| 2 | Pedestal |
| 3 | Full door |
| 4 | Transparent door |
| 5 | Mounting plate |
| 6 | Gland plate |
| 7 | Mountings for the wall |
---

Polyurethane gasket
The polyurethane gasket ensures protection against humidity at IP66 level
Profiled edges
Specially profiled edges reliably protect against moisture and water
Reinforcements
Doors in housings from 500 mm height have vertical reinforcement with mounting holes in a 30mm spacing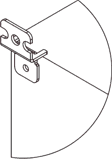 Mounting brackets
Can be attached to the wall with special handles (additional accessories)
Compliance with standards
CATALOG METAL ENCLOSURES IP66
Check the full offer in our catalog