Construction
OMM metal multimedia enclosures are used in housing construction. In accordance with applicable regulations, they meet building requirements applicable as enclosures for the distribution of media and power supply signals. Thanks to this solution, in one surface-mounted or concealed enclosure, we can collect all types of media: electrics, teletechnics, telephones, CATV cable TV, home computer networks, alarm installations, fire-protection installations and finally allows you to assemble the elements of the "smart home" system.
As a standard, multimedia switchgear consists of three separate, independent and separated parts:
Electrical part – for installation with modular devices of low voltage switchgear
Alarm part – this part of the switchboard can be an optional part
Teletechnical part – this part of the switchgear is intended for teletechnical installations and CATV
Enclosure is made of steel sheet, which has been repeatedly restrained, 1.2 mm thick, painted with RAL 9010 powder coating.
Additional options
Any color from the RAL palette
---
Application
electrical network, home computer network
alarm installation, fire protection installation
home computer network, elements of "smart home"
Exploitation
inside buildings
operating in a dry environment
---
The right door can be changed to the left and vice versa
Small external dimensions - only 10cm deep
Perfect for connecting teletechnical networks with the "Smart Home" system
Surface mounted enclosure
---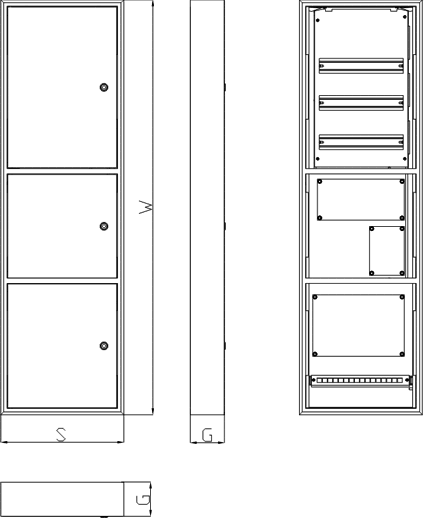 Flush-mounted enclosure
---
---
Compliance with standards
CATALOG MULTIMEDIA ENCLOSURES
Check the full offer in our catalog