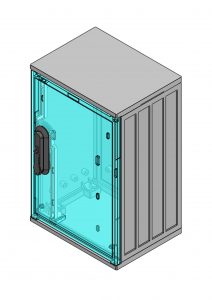 Polyester thermosetting enclosures type OT35
The OT polyester enclosures (thermosetting) type OT35, fulfilling a series of requirements given to switchgears. They are made of thermosetting glass fibre reinforced polyester which has insulating, slow-burning and self-extinguishing properties, and its typical features is high resistance to weather (UV). These enclosures, due to its multifunctional structure, can be used for the power and telecommunication industry, as well as for general industry purposes.
The enclosures can have two types of the roof: skew for outdoor enclosures and flat for indoor enclosures. Doors and segments can be dismounted without any tools.
---
Application
Cable and measuring connectors in professional power engineering
Rozdzielnice elektryczne Nn
Enclosures protecting electronic devices
Exploitation
A wide range of work at temperature -50 +85C
Resistance to weather conditions (UV)
Impact resistance IK 10
---
Construction allows to connect the enclosure with the pedestal or the cable base
The module design allows to set enclosures vertically or horizontally
The ventilation system minimizes the accumulation of moisture inside the enclosure
Compliance with standards
CATALOG ENCLOSURES OT 250mm
Check detailed data and available accessories