General characteristics of polyester enclosures,
Polyester enclosures fulfilling a series of requirements given to switchgears, quickly gain interest among clients and become products commonly applied in the nN switchgears sector.
SAKS-POL company, meeting clients expectations and fulfilling the requirements of appropriate regulations, offers a wide array of switchgears from thermo-enhanced polyester. As one of the leading producers conducts initiatives enabling continuous improvement in production technology. Thanks to this, products are of the highest quality. Products offered have appropriate certificates issued by The Research Office regarding quality BBJ-SEP.
---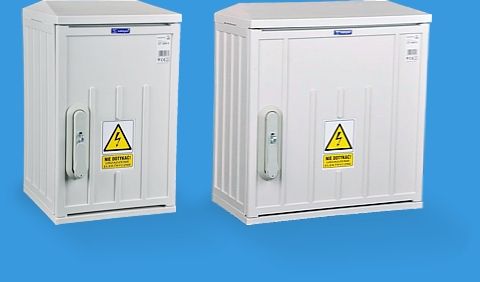 PRODUCTION TECHNOLOGY
In the process of producing polyester enclosures exist two elements, which have a substantial impact on the quality and repetition of made goods.
Material – from which are made elements are thermo-enhanced polyester reinforced by glass fibre. Technologically advanced high quality base product guarantees high mechanical endurance and limits the harmful impact of UV rays.
Form – from which depends quality, exactness, and repetition of particular elements of enclosures. Obtaining high quality forms is possible thanks to a richly equipped tool-room in modern machine tools numerically steered and qualified specialist in this field.
TECHNICAL PARAMETERS
Protection class: II
Protection degree: IK10, IP44, IP54
Heat resistance to 850ºC
Weather conditions resistance
Colour RAL 7035
---
FEATURES (ADVANTAGES)
Made of self-extinguishing high-quality material
Resistant to UV rays and weather conditions
Very high mechanical endurance
Excellent design and long-lasting durability
Three-point door interlocking, metal or plastic strand
Possibility of applying circle plastic viewpoint or revision doors
Opening door angle min. 180º
Module construction enabling replacement of damaged parts
Construction enabling a configuration of any joint or enlarging of existing one
Possibility of equipping in switch-fuses (insulator version)
Equipped in ventilation openings carrying away an excess of humidity
Possibility of simple and quick door dismantling and base cover
External ribbed surface hampering postering
---
Lacquered enclosures. Polyester enclosures can be additionally secured by coating the outer covering of any RAL colour. Additionally coating protects the surface casing from UV radiation and abrasion phenomenon. Surface covered with varnish also allows adjustment to the colour of the environment in which housing will be located. Applied two-component coating provides long-term protection against adverse weather events.
Anti-graffiti enclosures. The outer surface of the polyester enclosures can be further protected with anti-graffiti means. We currently have a number of solutions and resources that protect the surface from devastation in the form of unwanted prints and other dirt surface. Transparency of the protective measure allows for use directly on the plastic and painted surfaces without affecting the color of the enclosures.
Available types of enclosures
---
CATALOG OF POLYESTER ENCLOSURES
Check the full offer in our catalog